Reverse Osmosis Systems
Aqua Filsep, a leading manufacturer of Reverse Osmosis Systems in India, specializes in water treatment products such as reverse osmosis systems, commercial & industrial reverse osmosis systems, water softeners, water purifiers, Sea Water, Brackish RO Systems, Double Pass RO Systems, and many more. The "AFI-RO" Reverse Osmosis Systems manufacturer in India for water and waste water treatment plant manufacturer removes dissolved materials, both ionic and non-ionic.

Aqua Filsep Inc.'s "AFI-RO reverse osmosis systems India provide appropriate value and features for any desalination application. Every "AFI-RO" structure is built using the finest materials available. Hence, AFI-RO Reverse Osmosis Plants are appropriate for a diverse range of industrial water purification purposes.
Aqua Filsep Inc. is the reverse osmosis system manufacturer with capacities ranging from 2000 LPH to 200 m3 per hour for industrial applications.
Brackish Water RO System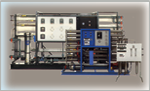 The "AFI-RO-BW" Brackish water Reverse Osmosis systems are explicitly built for feed waters with high TDS values. Each "AFI-RO-BW" system generates potable product water from feed water containing up to 10,000 ppm of TDS. Standard "AFI-RO-BW" Brackish Water RO models range from 50 liters per hour to 50 m3/hr for any Brackish Water Industrial application.
Sea Water RO Systems
"AFI-RO-SW '' brand Sea Water Reverse Osmosis Systems are designed to produce potable permeate water and roughing demineralization for industrial application from sea water up to 45,000 PPM of TDS. "AFI-RO-SW" Sea water RO systems are also supplied with energy recovery systems, a cost-effective solution in operation cost. Standard "AFI-RO-SW'' RO models are available for any commercial application from 6m3/day to 600m3/day capacity.
Double Pass RO Systems

Double pass reverse osmosis systems from the "AFI-RO-Ultra pure" brand are designed to reject 99.99 percent of TDS, yielding permeate water suitable for most electronics, pharmaceutical applications, and semiconductors. When pure 18 mega-ohm product water is required, the "AFI-RO-Ultrapure" Double-Pass R.O systems are well suitable to be utilized as pretreatment for the "AFI-EDI" brand Electro-Deionization Systems or classic "AFI-DM" lon Exchange demineralization equipment.
You may obtain more information about our Reverse Osmosis System and other water treatment services through Contact Us page.