Water Filtration Systems
Aqua Filsep Inc. filters are conventional pre-treatment systems in the water treatment process, straining the water through different media to remove a substantial percentage of colloidal particles.
Provides a comprehensive line of high-quality filter systems that reduce maintenance and improve water treatment systems performance.
Pressure filters use tailored filter beds to remove particular impurities from process water.
The Multi Media Filter (MMF) removes high suspended solids by layering various media.
Both conventional and custom-designed pressure filter systems are manufactured depending on the quality of water intake and downstream equipment.
Activated carbon filters (ACF) removes free chlorine and other oxidants from downstream equipment that might harm resin and membranes.
Green sand filters take out iron and manganese from the water supply. Filtration systems range in size from 1 m3 to 70 m3/hr..
Depending on the procedure, the "ESP" and "GLH" series filters are composed of mild steel and fiberglass reinforced plastic pressure vessels
Water Filtration Process
This is a physical procedure for removing suspended particles, color, and odour. Water filtration plants using pressure sand remove suspended particles
Filtering devices, such as DM Softeners or RO household water filtration systems, are usually used before any further treatment. Ultra Filtration membranes are used, as well as a dual media filter.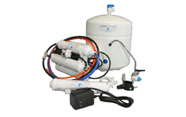 You can Contact Us to get more information related to our Water Filtration Systems and other water treatment systemts services.
work with best water treatment manufacturer